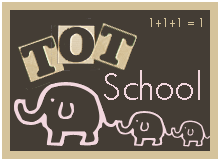 Evan and I did our first Tot School last week. So much fun! We've been doing "school" off and on since last year, but it was so sporatic, I didn't feel I was organized enough to post at Tot School. I love reading all of the Tot School posts! There are so many moms with so many great ideas!
Evan is really enjoying having this time set aside just for him. We usually begin right after lunch. That's when the older girls are on a break since they've been working all morning. Our first theme of the year is "Gone Fishin". He is the one who inspired me to choose this theme. He was sitting on his bed one evening with the string from his toy telephone dangling down the side. He said, " Momma look! I'm fishin'!".
Here's a look at some of the "Fishin' Fun" we've been having.....
We played with some flannel board fish and a fisherman. We did counting rhymes, poems and songs about fish.
We read the story of "Jonah and the Whale". I picked up an inexpensive, colorful picture book of this Bible story at our local used book store.
He was very interested! Then we used a sticker sheet that I purchased at Oriental Trading Company for him to recreate the scene. He did well with this. We touched on the fact that Whales aren't fish and neither are dolphins. Then I showed him some YouTube footage of whales in the ocean, some above water and some below. It was interesting. Alexa even thought so.
This printable activity can be found at
First School
. Evan enjoyed coloring the fish and cutting them out (with some assistance).
By the way, my son is really.........Batman.
Fun with counting, colors, cutting, gluing and numbers......all in one project!
Evan made a rainbow fish using a fish outline, cut up tissue paper, a googly eye and glue.
He loved playing with his fish after he was done.
More fun with this game/puzzle that I bought for Evan over the summer.....
I just remembered I had it out there, when I saw him playing with his telephone like a fishing pole. He was thrilled when I brought this in from the garage!
He played with it for the longest time, then built the puzzle when he was all finished.
He has requested I get this out, every day since. :-) You can buy your own
here on Amazon.
It is very reasonably priced, considering how much fun Evan has been having with it. He can now name all the sea animals in this puzzle! And we discussed colors, too.
He also used this fishing pole to fish for the felt board fish we used earlier. I attached a paper clip to each one and he used his fishing pole to catch them.
Then he sorted them into the matching colored cups.
One day, we did a letter F page. He cut out the little pictures of things that start with F, but didn't feel like coloring them. He did "trace" the letters at the top....in black. He loves black. I think it has something to do with Batman. :-)
Have a wonderful week and check out the other
tot school
posts! So many interesting, fun and inspiring ideas out there!
TTFN
~Tina